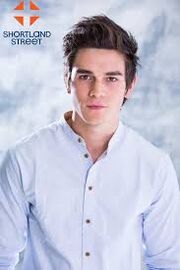 Kane Jenkins
is a recurring character on
Shortland Street
. He is portrayed by teenage actor, Kj Apa. Kane is the estranged brother to Dayna. In contrast to his mercurial sister, Kane is a very stable character – reliable, unflappable, loyal and a straight-talker, even to the point of accidental rudeness. He's also extremely competitive and is not good at coping with losing, in any sphere.
Kane has learned to keep his opinions to himself and keep his head down and not make a fuss . But deep down he's very strong willed, even obstinate as he pursues his own goals.
Kane has spent most of his life in private boarding school, so doesn't have a close relationship with Dayna or their wider family. Kane's community are his team mates – he loves sport and finds it an uncomplicated, easy past-time. He responds well to the rules and boundaries implicit in playing sport – it's a world he understands. He's very conservative as a result, and tends to force others to obey rules and social conventions.
Kane wants to form a "team" of mates as soon as he can in Ferndale, no matter what that takes. He's a good friend – and highly skilled at keeping secrets, as he has a few himself.
Jaded by his experiences of Dayna's emotional behaviour, he avoids emotional situations whenever possible, and prefers the more familiar world of boys and men. In fact, he finds the female gender utterly baffling.
After arriving to stay with the Coopers, Kane quickly bonded Murray over their love of sports and found a group of mates in Toby and Harry.
During his visit Kane stayed with the Cooper family and in the new year, agreed to be fostered by them. He began to date Honour Aleni (Sophie McIntosh) and accepted a rugby scholarship to a prestigious private school, only to lose this and get suspended whenMurray Cooper (Matthew Chamberlain) became over invested in his schoolwork and started doing it himself. Kane and Honour broke up and after having his life saved by his best friend Toby (Robert Evison), helped him cover up the murder of Brett Franklin (Matt Dwyer).
References
Edit
[1]kane jenkins